SPERIAN PROTECTION
Your Shopping Cart
0 Items
Qty
Sub Total
Your Shopping Cart is empty.
Cart Subtotal: $0.00
SPERIAN PROTECTION

SPERIAN
With its two complementary product lines (earplugs and earmuffs), Howard Leight by Sperian provides solutions to nearly all noise-related hazards. As the hearing protection innovation leader, the Group offers solutions that deliver optimal protection and exceptional user comfort.
Howard Leight by Sperian leads the industry by offering the most innovative choices for in-ear hearing protection. Our complete line of disposable, reusable, detectable and banded earplugs include options for material, shape, size and rating that provide a unique Comfort Profile for every user, every environment.
Earmuffs engineered by Howard Leight by Sperian offer you and your employees the most choices in advanced protection. Whether you need to protect workers from long-term exposure to harmful noise or facilitate communication among co-workers in hazardous environments, Howard Leight by Sperian has the patented innovations and expertise to deliver earmuff solutions for hearing protection and sound management.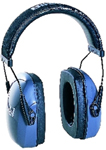 Our Price: $12.99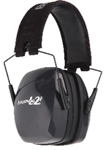 Our Price: $22.99


Back to top