MILSPEC PLASTICS
Your Shopping Cart
0 Items
Qty
Sub Total
Your Shopping Cart is empty.
Cart Subtotal: $0.00
MILSPEC PLASTICS

Milspec Plastics is an Asheville, North Carolina based company that manufactures Patented Cobra Cuffs, XTREME Zip Ties and provides a complete package of Non-Lethal, Emergency Response / Mass Arrest Products to Law Enforcement, Military, Professional Security & Corrections markets. Milspec Plastics is proud to partner with Industries for the Blind (IFB) - Asheville, NC location for Cobra Cuff assembly and order fulfillment.
Our Assurance:
We are dedicated to the development and delivery of innovative products based upon our highly engineered, thermoplastic resins. All products meet or exceed the high industry standards expected for the safety of Law Enforcement and Security Professionals.
Milspec Plastics has a proven track record of successfully delivering high performance products to Law Enforcement Agencies. With decades of experience in plastic engineering; Milspec Plastics has pioneered innovative solutions - tested and approved in the field.
Area of Expertise:
Super Heavy Duty, Foldable, Double Locking Restraints - Patented Cobra Cuffs & single strap XTREME ZIP Ties
Re-Useable Cobra Cuff Training Restraints
Non-Lethal .68 Cal Launchers & Accessories
.68 Cal Non-Lethal Projectiles, covering inert training and impact rounds to potent active OC & CS payloads.
Handcuffing Certification Course Offered; Cobra Cuffs & Metal. "Principles and Tactics of Handcuffing"
Non-Lethal Launcher Certification Course Offered for Law Enforcement, Corrections & Private Security Professionals.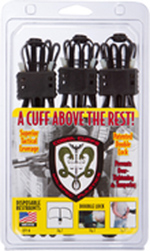 Our Price: $17.95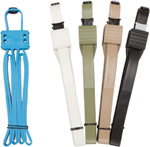 Our Price: $275.00


Back to top