KAHR ARMS
Your Shopping Cart
0 Items
Qty
Sub Total
Your Shopping Cart is empty.
Cart Subtotal: $0.00
KAHR ARMS

Company Profile
Kahr Arms, an innovative firearms manufacturer, was founded on fifteen years of manufacturing service in precision metalworking industries. Kahr incorporates the inherited professional, technical expertise into all of its operations.
Kahr's parent company, established in 1981, has been a leading supplier of computer numerical control (CNC) machine tools and applications engineering. In 1986, the company expanded by forming a manufacturing division which provides quality contract machining, manufacturing and assembly services for diverse industries, including aerospace, automotive, electronics, medical equipment, scientific instrumentation and telecommunications. This division offers in-house engineering and precision tooling services, as well as, secondary operations that complement the machining and manufacturing capabilities.
Kahr's corporate headquarters are located in Blauvelt, New York. Production and assembly operations are located in Worcester, Massachusetts, in the region commonly known as "Gun Valley."
Advanced Technology
With the objective of excellence in workmanship and material, Kahr does not compromise either in the designing or the manufacturing of the pistol. The most advanced computer applications and precise manufacturing technologies have been implemented to provide the finest compact pistol. Uniquely designed and fine tooled, Kahr pistols have several key factors that make Kahr owners out of people who try them.
CNC Machining
Utilizing the programming and tooling capabilities of CNC machining centers, Kahr pistols' main components are precision computer machined to the tightest universal tolerances. Machined parts, cut exactly to the engineering blueprint, assure proper assembly and peak performance of the Kahr pistol.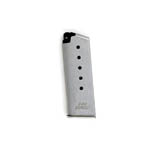 Our Price: $37.99


Back to top